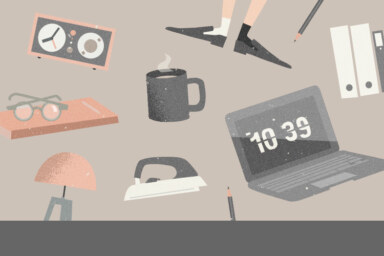 Business customers
Employee mobility in a dynamic world: A serviced apartment in Berlin – a smart choice for our business customers
Convenient like a hotel – comfy like a home
Book a serviced apartment as a reasonably-priced alternative to a hotel
Top-notch apartments with full hotel service
Serviced apartments with hotel-style amenities are often a lower-cost alternative to a hotel. Fully furnished apartments with housekeeping and concierge services offer your employees more space and privacy. Furnishings are always in an excellent condition and even provide a touch of luxury at a fair price. In a world that is becoming ever more mobile, serviced apartments have become an increasingly popular option.
Spend less
The amount of housekeeping you require in a serviced apartment is down to your own choice. Whether you are just on a short business trip or here for a longer spell, you can rent a serviced apartment on a daily, weekly or monthly basis. There are no agency fees and no hidden costs. Compared to staying at a hotel you can cut your travel expense bill by 30 % to 40 %. The apartment house option is thus far less expensive than booking a hotel, which makes it a perfect solution for business travellers.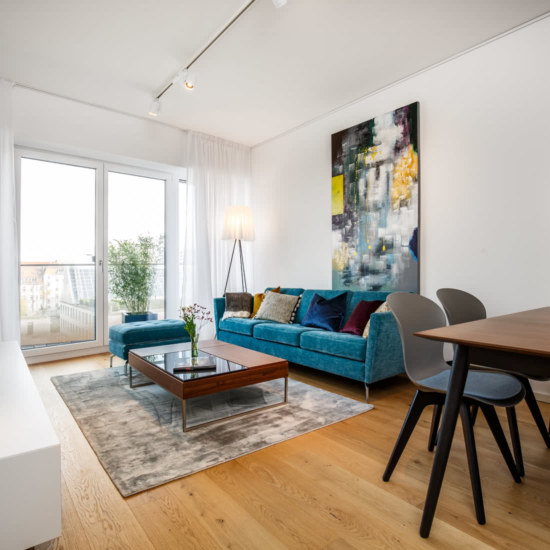 » We've been working in this business for many years, finding temporary staff accommodation for clients ranging from big firms to start-ups, from public authorities and film production companies to embassies. «
Free-of-charge service for our business customers
An apartment search comes with a lot of red tape. We offer to take all the hassle off your shoulders. Best of all: For you, our corporate accommodation service is free of charge. One of our experienced corporate-customer agents will be assigned to handle your mandate, conduct the search and ensure a smooth process: from check-in to check-out, that agent is your single point of contact.
Secure & easy
We gladly help you find the most suitable serviced apartment in the shortest possible time. Your advantage: quick communication and optimal support. We do all the work: from organising viewing appointments to drawing up a customised rental agreement. Thanks to our simple booking process all properties can also be booked online, whether it is a mini-loft or a luxury suite.
Your benefits at a glance
No
costs

Well-managed
viewing arrangements

Carefully reviewed
properties

Designated
agents

Easy
booking

Safe &
secure

After-rent
service

Reliable
scheduling
Living in a boarding house
A serviced apartment has many benefits
Flexibility
Having to change one's place of work on short notice has become an everyday reality for professionals in many sectors. And in most cases there is little time to find the right apartment. If your stay is only for a few weeks or months, it would not make sense to move your complete belongings to an unfurnished apartment. Self-catering in a serviced apartment is the ideal alternative. You may extend or shorten your stay as required, and your arrival and departure are not limited to office hours.
Employee satisfaction
When selecting an apartment property we focus on its overall feel-good factor and whether it is located in a downtown area. All our properties bear the 'Certified Serviced Apartments' label, and are located in the city centre, near Alexanderplatz and Friedrichstraße. Our serviced apartments meet the highest standards in terms of quality and cleanliness. Each one includes a kitchenette and Wifi, and offers greater convenience and flexibility than a hotel.
Staying at an apartment house offers a combination of hotel-style service and the privacy and comfort of a home. For a modern business 'nomad' a furnished self-catering apartment is the ideal place to live and work in. Your employee can retreat to a relaxing environment and does not need to bother about anything else.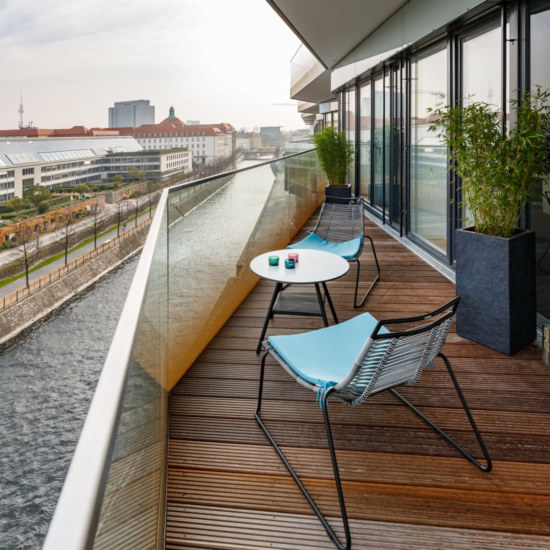 International employee transfers and relocation service
Employee transfers, one of the results of globalisation, are putting the Berlin housing market under increasing strain. The search for suitable apartments is an enormous challenge and puts corporate HR departments before a difficult task. Helping employees become established in their new living environment is the key concern of relocation services.
The search for a proper apartment can at times become a massive task. Having cooperated closely with a number of well-known relocation agencies, we know what expats are looking for in a business apartment in terms of furnishings and location. We offer our entire experience to support the relocation agencies in their challenging task.

» We know how difficult it is to find suitable accommodation for an employee from one day to the next. Booking a serviced apartment for our business customers is therefore a great alternative. «
Perfect Service
Every day we meet the high expectations of our business customers. Our work is all about personal advice, perfect support and reliable planning. Dependability and a friendly professional service have a long tradition at coming home.
Trust
We support government agencies, universities, film production companies and embassies in finding suitable accommodation for their employees. Over the years we have developed a great deal of expertise in this field. More than 20 employees are working for you every day and our professional business customer management team ensures that no detail is forgotten.
Our partners
Over 600 companies have already booked an apartment with coming home