Templates & checklists
Use our free service for landlords
No more rummaging among bits of paper. Proper preparation makes things easier for you. Therefore, we at coming home have prepared templates and checklists containing many useful hints to make your life easier. To ensure that no detail is forgotten, we have compiled a list of everything you should think of. If you plan everything right from the start, nothing can go wrong. Our registered landlords have access to these documents in PDF format.

Good to know: This free service saves landlords a great deal of time and effort.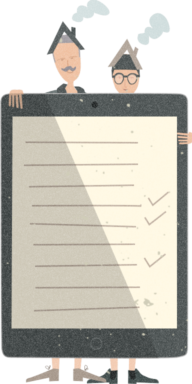 House file
We tell you what a house file should contain so that you have all important information ready to hand in one place: from user manuals to care instructions and much more.
List of furnishings
We have compiled for you a complete list of items that should be included with a fully-furnished flat.
Handover Protocol
We tell you what that record should contain and how to document the condition of your apartment correctly.
Cleaning list
To make sure that your tenant feels comfortable right from the start, we have compiled a to-do list of cleaning tasks for you.
Inventory list
To avoid any uncertainty, the content of a flat should be recorded in an inventory list.
Proof-of-residence certificate
We have a template for you in case your tenant intends to register with the police.