Our Landlord-Management-System
For a swift and secure lease in Berlin and Potsdam
Simplifying a complicated procedure requires some fundamental professional expertise. Our landlord management system was especially developed for coming home. It is the underlying technology of the entire rental process and the basis for letting your apartment successfully.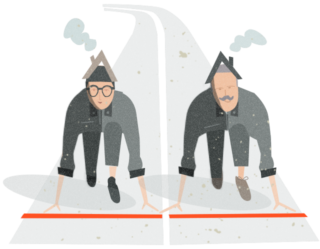 Commissioning
We make it especially easy for you: via our website you simply enter all relevant property data and include your contact details. Once you have submitted your request, your personal coming home expert will contact you to discuss the next steps in the process.

We also offer fast and simple access to our service to clients who manage multiple properties. There are no fixed deadlines. We will advertise your property until a tenant has been found and ensure a high level of online coverage. Throughout the entire process, coming home will remain the primary contact for tenant and landlord.
Photo-shoot
After the photo-shoot our digital image team will create your perfect property description. It will also include supplementary information as to location, the energy certificate and a floor plan. If you are in a hurry, we can publish your advertisement online within 36 hours and start the search for a tenant. The photo-shoot is free of charge.
Marketing
After receiving your mandate, our professional team of consultants will put your furnished apartment on the market. You can access all relevant information and current status updates at any time. For every one of our client accounts the system keeps a record of all incoming queries. Of course, archived data and documents can be accessed at all times.

We deal with any incoming enquiries from potential tenants and carry out a pre-selection. Our team of consultants co-ordinates the entire marketing procedure and, if requested, makes the viewing appointments.
Rental contract & Credit report
After the right tenant has been found, the contract department creates a customised rental contract. You will receive this by e-mail, together with the self disclosure of the potential tenant, for your approval. At the same time, we request a credit report (Schufa) of the potential tenant. Once you approve the rental agreement, it will be e-mailed to the future tenant to sign. Once both parties have signed the contract, the deposit and first month's rent will be transferred into your bank account.
Apartment hand-over
Once the payment arrangements are out of the way, we will help you organise the apartment hand-over. You can optionally assign us to handle the entire procedure on your behalf. We provide a hand-over protocol and checklists, and will also be happy to help when it comes to preparing your apartment for letting. To create an instant feel-good atmosphere for your tenant, a few important details should be considered. Our letting experts will be pleased to advise you.
Fees
We work according to the no-let-no-fee principle. We charge a service fee only if a rental agreement has been successfully reached. Best of all: Thanks to an 'agile' rental strategy, our service works out almost cost-neutral for our landlords. This is how we make your rental property in Berlin and Potsdam profitable.
After-Rent-Service
One tenancy will soon be followed by another. Our service does not end with finding a tenant. We offer a whole range of helpful additional services. Our landlords particularly appreciate our after-rent service, which also includes making arrangements for professional cleaners.
Lease renewal
To ensure that your apartment is not left vacant between two rentals we believe in making early arrangements for a follow-up deal. In general we begin to look for a new tenant six to eight weeks before the current contract expires. It thus becomes necessary to conduct viewings while the present tenancy is still ongoing. This provision in our tenancy agreements is generally well accepted by our tenants. It is our way to ensure maximum utilisation of your property.
» Easy letting. Be on the safe side with our coming home property management service. «